Some Of Our Work
Big jobs, modest jobs, strategic or tactical jobs all get the same professional insight, expertise, care, attention and dedication.
See Websites & SEO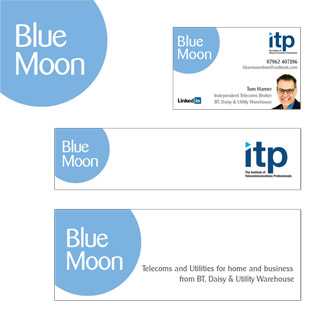 Blue Moon Consultants
Branding, Business Card & Social Media Banners
Less is more! My Chorley based client is an avid Manchester City fan, so the name of the song that the fans sing at their games seemed appropriate in this case 🙂
Holt Green Training
Training Courses – Flyer Design & Artwork
6 A4 Flyers were produced after several design options were prepared and one chosen by this Blackpool client.
Waterboy Water Coolers
Value Proposition, Website Design & SEO
Prioritised and shaped a lot of information into a concise, compelling selling proposition. A copy platform for over 20 pages of corporate, sales, operations process and technical content were written and a 14 page authority website. All of which was created without the need for ongoing input from Accrington based Waterboy.
Electrium Sales (Siemens)
Installer & Specifier Marketing Research
A qualitative marketing research project was successfully delivered for this Cannock based client. 50 "depth" interviews were conducted all around mainland UK via a mixture of face to face meetings and telephone interviews. The client wished to obtain insight on customer purchasing processes, attitudes towards various manufacturer brands and likely customer reaction to the introduction of a new range of products under the well known electrical brand Crabtree. The project was delivered on time, on budget providing the depth of insight desired by the client. This product range has now been launched.
Sollertia Outsourced Accountancy
Hire Association of Europe Presentation
Presentation messages, structure, content and slide creation including all graphics written for this client with offices in Newton Le Willows and Chester to convey their unique "profit maximising" accountancy services.
M4 Lifting
Website & Search Engine Optimisation
M4 Lifting are based in Swansea, South Wales and provide specialist lifting equipment services to a wide range of industrial customers. 2 websites have been built over a 3 year period, the last one of which has been optimised to bring in more sales leads from the search engines. All businesses can get more clients this way.
Auditform
Sales Leaflet
In addition to website management and search engine optimisation, marketing consultancy and graphic design services are provided. Message development, copywriting, graphics, leaflet design and print were all executed by Communisage for the client who are based in Bury.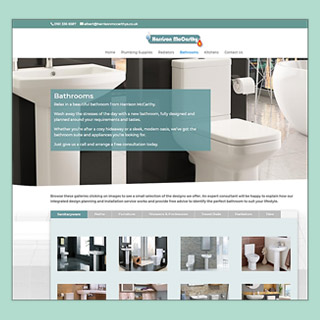 Harrison McCarthy
Website
Harrison McCarthy are based in Denton in East Manchester. A new responsive mobile friendly was built for this client to replace an old static design after the positive experience their associate company S&M Plumbing & Heating experienced with the build of their new website. The new site conveys their key sales messages and shown in the image above is a novel 6 tab photo gallery to showcase their sanitary ware, baths, furniture, showers & enclosures, towel rails and radiators.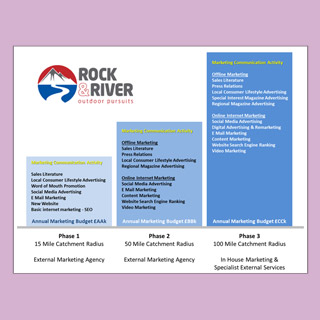 Rock & River
Public Sector Tender Support
This was an interesting albeit modest piece of work providing supplementary information and graphics for part of a tender this Eccleston based company submitted to a public authority.
Be Strong Charity
Advertising and Fund Raising Post Cards
Bolton based charity, Be Strong provide rehabilitation services for alcoholics, drug addicts and habitual offenders to enable them to take control of their lifestyle to improve their lives and add value to society. Design and artwork for the ad and 5 A6 postcards were produced for them.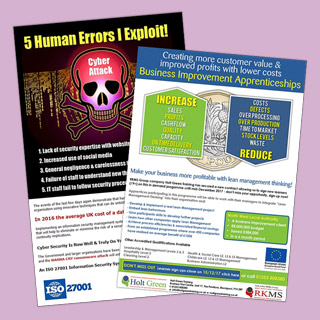 RKMS Group
E Mail Marketing
Blackpool based RKMS group provide training and management consultancy services. The 2 examples shown were created from scratch with a simple brief to produce mailers promoting ISO 27001 to combat cyber crime and business improvement apprenticeships. All design, copy writing, emailer artwork graphics and email distribution were managed by Communisage.
Pendlewood
Specifier Market Research
Skelmersdale street furniture manufacturers Pendlewood, commissioned Communisage to conduct a modest telephone survey among 20 respondents to assess customer perceptions of their products and service delivery as well as awareness and disposition toward the Pendlewood brand. The project was delivered on time and to budget.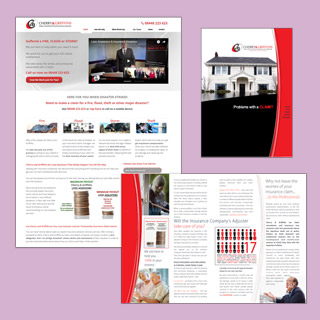 Cherry & Griffiths
Sales Message Development, Website Design & SEO
Cherry and Griffiths are loss assessors and loss adjusters with offices in Colne, Baildon near Bradford and Manchester. Communisage enabled the client to better articulate the benefits of using loss assessors by members of the public to ensure that they get their full entitlement against a claim for damage to their property.
Their sales messages were reconstructed and supplemented by explanatory graphics. Copy writing was undertaken for their sales brochure which was designed using the structure provided. Subsequent work producing a website and search engine optimisation was then carried out to create wider awareness of the Cherry & Griffiths brand and generation of sales leads from the search engines.
Auditform
Moy Park Presentation
This presentation was designed and written to convey the virtues of using the client's audit management software to improve quality management and legal compliance inn the food industry. Communisage act as outsource marketing managers for this client and attended this presentation in Ballymena, Northern Ireland.
St Mary's Church
Called Beyond Mission
Communisage were blessed to be asked to design and print an A6 invitation card, an A5 events card and a 3 metre event banner for this important church mission programme.
Duxbury Mortgages
Web Design, Flyers & Logo Design
Chorley based start up Duxbury Mortgages engaged our services to build their first website followed by social media support, logo design and flyer design and artwork. The site was also optimised for the search engines and Google My Business Maps search.
W Monks
Web Design & LCC Presentation
W Monks are well known building contractors based on Longridge. Our construction industry experience came in handy doing with with W Monks. We carried out photography at their premises, developed their sales messages, built a website and crafted a presentation that was used in their pitch for a Lancashire County Council public sector construction procurement framework.
Enabling Transitions
Udemy Training Course Visual Aids
Preston business consultant Denise Fletcher commissioned Communisage to produce visual aids to complement video training modules she produced for a Udemy course "Collaboration -The Key To Successful Organisational Change".
Over 70 slides were produced for this project.
MJH Accountants
Client Research, Value Proposition& Copy Writing
In their start up phase, Communisage worked with Preston based MJH Accountants. Accountants have mixed reputations among SMEs so we conducted some research among Mark Hall's clients to establish what they thought negative aspects of accountants in general were and the positive aspects of working with Mark.
From the research, we were able to establish 3 "competitive virtues" for the start up business which were shaped into an 8 page brochure based on a structure and copy written by Communisage. We have also conducted on page SEO for the MJH website which has resulted in improved Google rankings for their business.
Churches Together In Leyland
50th Anniversary Support Material
We were again blessed to design the logo based on the well known Leyland Christian landmark, The Cross, for Churches Together in Leyland centenary celebrations. In addition, we designed and printed a 2pp A5 flyer as well as designing and producing artwork for the production of 2 roll up banners.
Smith Jackson Wealth Consultancy
6 Financial Services Presentations
Smith Jackson are based in Haslingden and have commissioned Communisage to produce 6 different client and management presentations.
Unique Garden Services
Website, Business Card & Flyer
Even modest businesses can benefit from insightful marketing. Bolton gardening services business Unique engaged Communisage to produce their first website and some basic support materials.
After a red rose logo was created, a 2 page website produced was kept deliberately clean looking and uncluttered in order to let their work speak for itself. Over 30 images were processed with image correction and format cropping.
A discreet "before and after workIng" slide show was also created for the home page and the site was optimised for Google My Business Maps search and a business card and simple flyer to mirror the website design was created.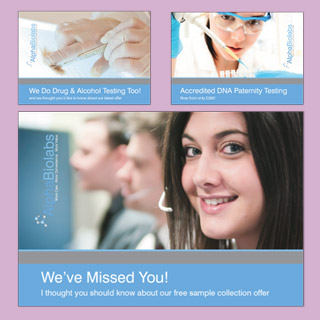 Alpha Biolabs
Marketing Consultancy
Communisage acted as Warrington based Alpha Biolabs outsourced marketing manager. Alpha Biolabs are the UK's leading provider of diagnostic laboratory service for private and public sector DNA, Drug and Alcohol testing. Working across 4 "routes to market" ie workplace, legal, private and international, Communisage provided support with the following activities:
developing their sales proposition
creating branding
writing strategic and tactical marketing plans
analysing sales data to analytics
improving field sales and business development processes
offline and online marketing communications
The examples shown above are just 2 examples of mailers from a wide array of online and offline marketing support provided.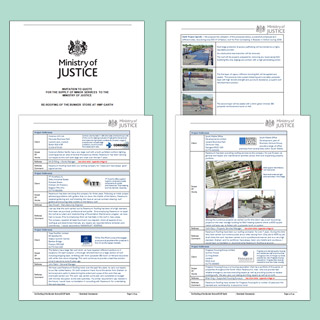 Paramount Roofing
Invitation To Tender Support – Ministry of Justicce
Paramount Roofing is a small 3 employees business run by my brother Graham from Leyland. When he had an opportunity to tender for some MOJ public sector work, he needed some expertise and guidance with the formality of ITTs and the formal tendering process.
Communisage guided Paramount through the bidding process developing detailed bid documentation which positioned their business in the best possible light and provided experienced professional advice regarding their approach to pricing.
Following this tendering process, Paramount won contract work for 2 prisons in Cumbria and Lancashire.