Internal Analysis – Where Is the Business Now?
Before making the first step on your journey, it's important to map out where you want your marketing communications strategy to take you, you need to find out where you are now.
How is your business performing? eg sales and market share by product, customer, geographic region
What are your distinctive competitive (marketing) advantages?
How effective have your previous strategies and tactics been?
What has been accomplished so far from a communications point of view?
How effective have previous communications been?
How have you differentiated and positioned your company's products and services from their competitors?
Are you focusing on the most appropriate market sectors and the right types of customer?
B.      External Analysis – What's Happening in Your Market?
Your Trading Environment
What changing external factors eg the economy or changing customer needs might affect your business?
Some of these factors will be more pressing for your business than others?
You should review the environmental factors that impact your marketing communications campaign. This can include many factors such as:
Macro environment
Economic: inflation, interest rates, unemployment
Social/cultural: age distribution, lifestyle changes, value, attitudes
Technological: new product and process technologies, materials
Political/legal: monopoly control, new laws, regulations
Ecological: conservation, pollution, energy
Your market place & customers
The trading environment is also affected by changing customer needs and preferences brought about by technological advance and the activities of competitors. So you need to assess how things currently are and how they are likely to change going forward. Consider things like:
Market size, growth rates, trends and developments
Current and potential future customers – who are they, their choice criteria, how, when, where do they buy, how do they rate you vis-à-vis your competition relative to your products, pricing, distribution and promotion
What are the characteristics of this market?
The size of customer base, customer characteristics & motivations, anticipated changes in behaviour?
How does your market segment ie are their logical customer groupings and what benefits do each group seek?
Distribution: power changes, channel attractiveness, growth potentials, physical distribution methods, decision-makers and influencers
Your Competitors
Get a thorough understanding of your competition so that you can make determine how to construct your competitive positioning, the messages and content to convey this and the means of getting your points across to your prospects & customers. Questions to explore include:
Who are the major competitors: actual and potential?
What are their objectives and strategies?
What makes them different?
What are their strengths (why & how they win their business) and weaknesses (where they are vulnerable)?
How are they positioned against you (what is their competitive advantage)?
Market shares and size of competitors?
What media and messaging they use in their own marketing campaigns?
C.      SWOT Analysis
SWOT Analysis is perhaps the best known tool for analysing a business' overall strategic position within its trading environment. Its main purpose is to:
identify strategies and tactics will enable a business to ..
.. best align its resources and capabilities to the requirements of the trading environment in which it operates to grow profitably
SWOT analysis views all positive and negative factors inside and outside the firm that are likely to affect the success.
Carrying out this analysis will be illuminating. Done correctly, a SWOT Analysis will help you focus on your strengths, minimize or rectify weaknesses and enable you to take the best possible advantage of opportunities, and protect against threats.
To carry out a SWOT Analysis, you'll need to address the following questions:
Strengths
A strength is a resource or capability that can be used effectively to achieve a company objective.
Obviously you would want to build on your perceived strengths in your marketing communications programme. Ask yourself and other people in your business these questions:
What are your product advantages?
What are your service advantages?
What do you do well?
What do others perceive as your strengths?
Weaknesses
A weakness is a limitation, fault or defect in a particular product or service. Your promotional messages may have to be developed to minimise the weakness, or at least have a response in place if questioned by prospects or customers who perceive these weaknesses or have them planted in their minds by your competitors.
What could you improve?
What do you do badly?
What do others perceive as your weaknesses?  What should you avoid?"
Again, consider the answers to these questions from both an internal and external perspective perspective. Be really honest and try not to hide or gloss over any unpleasant truths.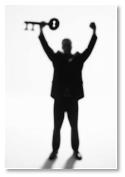 Opportunities
An opportunity is a favourable situation in your company's trading environment, often a trend or a change of some kind or an overlooked need that increases the relevance or effectiveness of the product or service in question. You can seek to exploit the perceived opportunity through your communications.
Are there changes in technology or market dynamics, on both a broad and narrow scale, that you can exploit?
What are the social or economic trends that could affect your market?
Are there coming changes in social patterns, population profiles, or lifestyles that will bear on what you're selling?
Look for opportunities in both the short and long term. Most importantly, find out if you have the data required to locate profitable market opportunities; if not, determine what information you need and from where you can obtain it.


Threats
A threat is a danger or menace in your company's trading environment.
Threats can often be ignored to the point where they become major problems.
What obstacles do you face?
What does your competition plan to do?
Are changing technologies or market trends threatening your position?
Market threats can take many forms. The goal is to identify potential threats so you can steer your organisation around them before your competition exploits them to their advantage.
As with a weakness, if a threat does require a marketing communication response, you should assess the likelihood and extent of the risk or threat so that if it does emerge, you are able to act quickly.
D.     Do Something With It!
So you have worked out your strengths, weaknesses, opportunities and threats, but what do you do now?
SWOT analysis is not much value unless you actually use the key factors identified to contribute to your marketing communication plan.
But you probably won't be able to follow up every SWOT item, so you need to attend to the most important. So to keep all this manageable, the factors should be prioritised.
For instance by urgency, importance, strategic advantage, cost, lead-time for completion, time required to achieve a particular action etc.
Then identify how strengths can be used to take advantage of opportunities and to tackle threats. Similarly, weaknesses can be analysed to ensure they don't make the threats worse or stop your organisation from exploiting attractive opportunities.
The next action required is to align this to properly support your company's specific business objectives.
E. Where do you want to go next?
Marketing Objectives
These objectives are what your company hopes to achieve from implementing your overall marketing plan.  The best objectives are quantifiable and typically refer to sales, market share, distribution penetration, new product launches and profitability etc.  Examples include:
Increase sales of product A by 10% in the next 12 months
Increase market share by 5% per annum over the next 3 years
Raise profit contribution levels from 45 to 48%
Establish 5 new distributors in the next 18 months
Marketing Strategies
These include:
Market penetration or selling more of existing products and services to existing customers, growing market share
Market development creating a new to the world market or selling existing products to new markets. This can be achieved by entering new markets eg overseas or selling products to new types of user in the existing market eg selling breakfast cereals as a bed time snack
Product development or selling new products to existing customers eg IPads to IPhone users
Diversification or selling new products to new customers eg IPhones to Nokia users
Market Segmentation, Targeting & Positioning
Segmentation – dividing up your market to zero in on desirable business!
This process can help you create a structure which highlights distinctive customer groupings or segments each of whom have different requirements.  These characteristics include:
Company demographics
Decision-maker demographics
Decision-maker needs & the benefits they seek
Decision-maker psychographics
Decision-maker behaviouristic
Sales & profit potential
Targeting – deciding which segments of the market you wish to focus on to better grow your business!
By narrowing down the characteristics of customers into different groups you can determine which customer types are most attractive to you based on for instance:
your relative competitiveness & attractiveness in each segment
levels of competitor activity
the attractiveness of each segment in terms of your ability to grow profitable sales
Positioning – creating a compelling competitive position to win business at your competitors expense!
Positioning is used to describe attributes of your product or service, its benefits, and how it compares to the competition.
The basic idea of positioning is to establish an image of how your product or service is perceived in the mind of the people in your target market.
A product or service's position refers to how potential buyers see your product relative to the position of competing products eg:
Positioned by the product's benefits eg "fastest on the market"
Positioned by price eg "the number one budget auto tyre"
Positioned as a prestigious product eg "it's the best in its class"
Positioning describes your competitive advantage, which means something unique about your product or service, or your company's brand, that sets you apart from and in the mind's eye of the customer and preferable to the competition.
Identify what your positioning strategy is based on and include it in your marketing plan.
In the second article of the series proper we investigate the step – "Determining Your Marketing Communication Goals"