Creating A Triangle Of Value
Growing market share by taking a business upmarket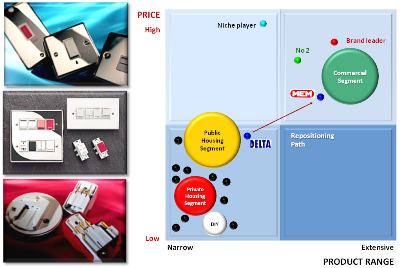 Often, the very real commercial threat from competitors with lower operational costs and aggressive acquisition tactics can rapidly lead to loss of market share and a consequent dip in profitability. Swift action is needed if a company is to preserve its position and plan future growth.
With a distinguished history of innovation in the electrical components industry, Delta plc had become a well-respected supplier of circuit protection products by the mid-1980s.
In order to position it's electrical accessory business for further growth in a market which was being impacted by the effects of increasing competition from manufacturers from the Far East, Delta urgently needed to grow its UK, ROI and overseas market by expanding its product range into a less competitive arena.
As leader of a core business development team, Communisage's Mike Cowburn collaborated with other business functions to expand the business, increase sales and market share and enter new UK and overseas segments by growing sales in a 3rd tier wiring accessory and helping the company to move upmarket, away from ever ferocious competition from Chinese imports.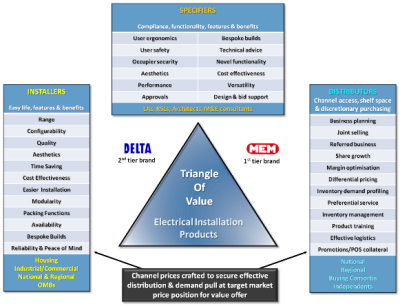 Organic growth resulted from repositioning via:
– new segment entry
– product development
– sales process change
– price positioning
– revision and extension of distribution
– competitor targeting
– relevant marketing communications campaigns
Major new product ranges and infill lines were developed and brought to a market where management of value proposition development and demand creation among three types of demand influencers – specifiers, installers and electrical trade distributors – were critical determinants of success.
Standards compliance for MEM-branded product was sought, making it easy for specifiers to select, while simpler installation, lower installed cost and local availability of a wide product range appealed to installers involved in residential, industrial and commercial new build and refurbishments.
Optimised inventories, margin enhancement and manufacturer collaboration to maximise sales growth were utilised to secure wider distribution and increased shelf space with distributors like Newey & Eyre, Edmundsons and Senate.
The 3rd tier Delta brand was transitioned to become a leading UK accessory range under the MEM brand
In addition, the wiring accessory business was grown by £3.5 million