Why Use Us
Why We're Different
Communisage was born in 2010 after I had enjoyed over 25 years in business to business marketing and sales helping small and large businesses alike to grow profitably. I've had great mentors and oodles of experience in developing customer value, creating awareness of it and getting the orders in as well. And I've been blessed to be able to make astute judgements about what works and doesn't work in business development for different markets, clients, products and services.
But what really gives me a buzz is planning and implementing the correct business development activities that will help drive your growth but don't cost you an arm and leg!
If you're looking for a genuine "more for less service provider", please consider Communisage.
You see Communisage is all about growing your business profitably and spending your money wisely.
Communisage possess a unique mixture of business development expertise gained in businesses from £100,000 to £300 million including: Analytical Assessment, Strategic & Marketing Planning, Creative Communications, Cost Effective Practical Implementation Expertise.
We can:
– assess a company's market position
– develop strategic plans for its growth
– do all the practical marketing work needed to achieve business development goals
– deliver one off tactical activities as required, like a new website or SEO
– do all this with low overheads and a flexible approach
That's why he can deliver effective and economical business development support in any way a business may need it.
"Mike was able to quickly identify a cost effective way for me to run a test marketing campaign for a new service.
So refreshing to deal with someone that understood the importance of working within our budget.
Mike is a genuine more-for-less service provider, highly recommended."
Grant Roxburgh, Managing Director – RSS Construction
Click to see Linked In profile
Outsource Your Marketing
Reduce Costs, Free Up Time, Get Additional Expertise, Get Work Done On Time!
Businesses large and small at some time have a requirement for additional support. And that's where access to an experienced, skilled and dependable external marketing resource can pay great dividends. The 2 arms of business development: sales and marketing are constantly evolving becoming more specialised as you can see from the graphic to the right.
Not only that, but the traditional sales and marketing approach is complex and very labour intensive from a management resource perspective.
Traditional Sales & Marketing Approach >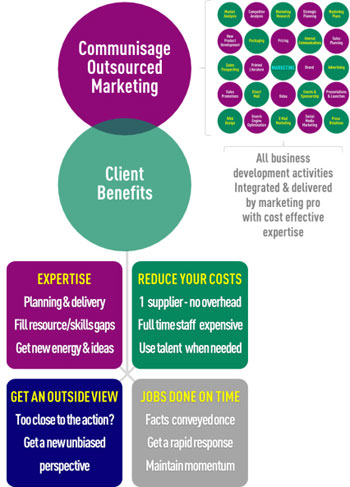 Multiple Suppliers & Multiple Relationships
Multiple Invoices
Briefing & company knowledge passed on to each supplier one by one
Management & integration of marketing effort left up to client
Benefits of Outsourcing To Communisage
Communisage has over 25 years professional sales & marketing experience
Communisage can integrate all the business development activities required for successful business development
Communisage can help you reduce your sales and marketing costs
And, Communisage can help you successfully grow your business
Find out what benefits we can bring to your business.
Please get in touch on 01772 456089 today or click here to send us an email.
Communisage give you the best of both worlds!
It starts and ends with YOU!
But growing a profitable business needn't rest entirely on YOUR shoulders!
Why not consider someone who has the full array of professionally qualified marketing expertise at their disposal.
Someone who can work with you and your team to add commercial insight, help you identify new business opportunities, offer new growth perspectives, develop action plans and then conveniently implement the required activities for you!
A professional who cares enough to bear the costs of professional indemnity cover, unlike some other providers!
You really can benefit from someone who provides the commitment of an internal resource and the capabilities of a full-service agency without the operating costs of either.
So whether you need a marketing plan, to develop a new product sales advice, new branding, digital marketing, social media, advertising, brochure or a winning slide deck, why not see how we can help you?
Here is the scoring our current clientele kindly gave us in our KPI customer satisfaction scorecard survey (freely available for viewing), where 1 is poor and 10 is excellent.
Communisage don't tell clients how to run their business, manage their sales effort or replace their existing marketing resource and processes. Nor do we encourage clients to over invest in lavish unwarranted campaign activities, we just deliver effective results with real value for money!
At Communisage, we just help you get your sales and marketing engine in the optimum shape to drive business growth – whatever the financial climate.